Welcome to Watch What Happens, a multi-genre role play site with a twist. We have no word count and no character limit.

Current Character Ratios:
Fictional Characters: 9 Males 2 Females
Real People: 0 Males 0 Females

General Character Count:

11 Characters
9 Males
2 Females

Current Bans:

No bans at the current time

There's been trials and tribulations
You know I've had my share
But I've climbed the mountain and I've crossed the river
And I'm almost there
Those words which once dictated how she felt deep down inside were nothing now but faded memories in a world full of doubt. The place she lived now was much, much different than how she lived in her world. The cars were faster, the skirts were shorter, and the food was more diverse. The cars and skirts, in her opinion, were too short and too fast. The food; however, was something she loved about this world.
Yes, deep down Tiana Rose was still a girl who valued the power of good food. Sure, she didn't own a resteraunt like she did in her world but waiting tables and cooking until she could buy her own wasn't bad for her; she was use to it. It helped to refine the skills she had thought she lost when she made the switch to her world. The only thing she missed dearly was her husband, Naveen.
Naveen had brought her so much real happiness that she didn't have as a single woman. Sure, work was a false happiness that she had busied herself with for years but Naveen made life better. She could work and work for years to come to try and maintain the happiness that she felt when Naveen was close to her but she would never maintain that happiness. Mama Odie, the voodoo queen of New Orleans, had told Tiana it was "love".
In this world, the year 2013 in New York City, she had not found that same feeling. Today, a sunny Tuesday where the pavement smelled like the rain from the night before and the people complained about the humidity, she was fixing food in the kitchen as she always did.
"Order up," she smiled as she put the plate on the counter and slid it down to a regular who she knew would catch it.
She didn't know why, but she had a special feeling about this day.
_________________
~The ONLY way to get what you want in this world is through hard work~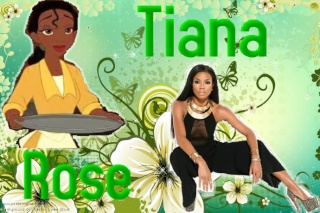 Fictional





Posts

: 4


Join date

: 2012-11-06





Similar topics
---
Permissions in this forum:
You
cannot
reply to topics in this forum