Welcome to Watch What Happens, a multi-genre role play site with a twist. We have no word count and no character limit.

Current Character Ratios:
Fictional Characters: 9 Males 2 Females
Real People: 0 Males 0 Females

General Character Count:

11 Characters
9 Males
2 Females

Current Bans:

No bans at the current time

((I marked this with red, but depending on the person who takes it, smut doesn't have to occur. I put it there to be safe, considering this is an open thread and I don't know where it will go. I'd rather be safe than sorry

)
The grass was cool against her skin. She felt a shiver go through her form- the sensation odd. Her face flickered slightly at the new feeling, and groaned as her eyes opened. This was not her throne room. Her fists grabbed dewy grass, squeezing hard.
Her grip felt weak.
Fear slowly began to work it's way up her form from the pit of her stomach up her throat.
She
felt weak.
She was many things, told she was many things, but never was weak used. Her cloak, hanging around her nude body covered some of her- but did nothing to hide anything. Hela slowly sat up, confusion all over her face. She recognized the place as a graveyard- distinctly Midgardian.
How
? How did she get here?
She glanced down to her cloak, wondering why it was doing nothing for her. It was as if the power was stripped from it as well. Frowning, she slowly pulled the green fabric from her body until she had it in her hand. Her cloak helped her conceal her greatest shame- her skeletal left side. If ever a part from her, the guise she made to cover her true appearance would melt away- leaving one half of her beautiful, while the other half rotted away to lifelessness.
Without her cloak, she was weak. Unable to move. Lifeless. With a hard swallow she let it slide from her fingers until it rested beside her in a green lump. She waited.
Waited.
Waited for anything.
Nothing- no pain. No melting. No agony. She was whole.
"I am... mortal." She murmured in shock. Unsure of what to do, and still feeling weak from the loss of her strength, she slowly pushed back until her back came against something hard and cold. Shivering from the new, unwanted sensation of cold- she reached for her cloak and wrapped it around herself for warmth.
And there she sat, against a large statue of the grim reaper that was a part of a family headstone from a century ago- lost, confused, waiting for her mind to catch up as her inky black locks fell about her pale skin.
_________________



Posts

: 11


Join date

: 2013-03-29



Though he wasn't particularly fond of the places, Loki had found that on Midgard…or Earth as the mortals called it, cemeteries were one of the few places he was able to go and not be bothered by anyone at all. Without his powers he wasn't able to make people leave him alone like he normally would, so he'd started coming to the cemetery when he wanted peace.
He walked silently among the stone monuments, glancing at a few of the closest ones, shaking his head at some of the ridiculous shapes of some of the stones and some of the messages people had had put on them. He'd never understood a lot of the things the humans did, but if he'd questioned them all, he'd be there for days; maybe even weeks.

Adjusting the green scarf he had wrapped around his neck, Loki continued slowly walking, not entirely paying attention to where he was going, though he quickly paused when he noticed movement in the corner of his eye, tensing slightly when he remembered he was powerless, usually keeping his guard up around most people, especially strangers, always ready to attack if needed.

Slowly turning to look, he was surprised to see it was a young woman and even more surprised when he noticed the only thing she wore was a cloak.

"Oh, I'm sorry I didn't know you were here…" He apologised as he quickly looked away, his eyes on the ground. "…are you alright?" He asked afterwards, assuming from what he'd seen of the humans, they didn't normally dress in such a way.


_________________

~~~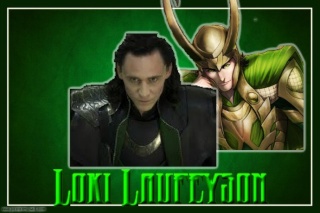 Fictional





Posts

: 51


Join date

: 2012-11-10



Hela's eyes widened in shock. Loki. The most recent incarnation of her father. Why was he here? Her look softened as she gazed up on him. His familar face filled her with warmth and a measure of safety. "Ada." She murmured, the old term of endearment slipping from her lips before she could stop herself.

They never recognized her.

Especially this one- she didn't remember coming up from her realms to meet the latest incarnation of her father, but maybe he would know of her title. SHe cleared her throat in an attempt to pass off her earlier mistake as a slip of words. "Loki, from the house of Odin the Allfather. I did not expect you here."

She rose from her place on the gravestone, standing on long, shaking limbs. She wrapped her cloak around her for warmth as she tried to give the same majesty off as she did while being the queen of Hel. "We have not met in this world or any other yet, but it is I- Hela, queen of Hel and Nffileheim. I awoke here. What new magic is this?" She said to him, looking worried. "I do not have my powers. I fear for the souls in my realms, I am not there to protect them."
_________________



Posts

: 11


Join date

: 2013-03-29



Loki raised an eyebrow at the quiet word, though he didn't question it, more concerned about the fact that someone he assumed was a stranger seemed to know exactly who he was. Watching the woman warily, he took a small step backwards as she stood, though he seemed to relax a little as she introduced herself, recognising the name.

"I'm afraid I do not know what magic it was," He replied softly. "At first I thought it was Thor and his new friends' doing that I ended up here, but they would not be able to take away my power and Odin would have said if it was his doing..." He trailed off, slowly shaking his head, unable to explain what had caused either of them to end up where they were.

"I am unsure of what will happen to the souls you protect, or how one would even return to their home..." He added after a brief pause. "Whatever magic brought us here does not seem to linger in this Midgard, otherwise I would likely still have my powers and you yours."
_________________

~~~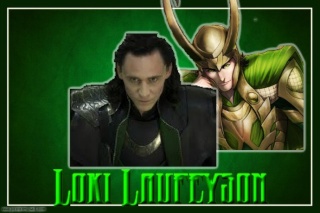 Fictional





Posts

: 51


Join date

: 2012-11-10




---
Permissions in this forum:
You
cannot
reply to topics in this forum